Beyond Kawaii: Studying Japanese Femininities at Cambridge.
edited by Brigitte Steger, Angelika Koch and Christopher Tso
with contributions by Anna Ellis-Rees, Ellen Mann, Alexander Russell and Tianyi Vespera Xie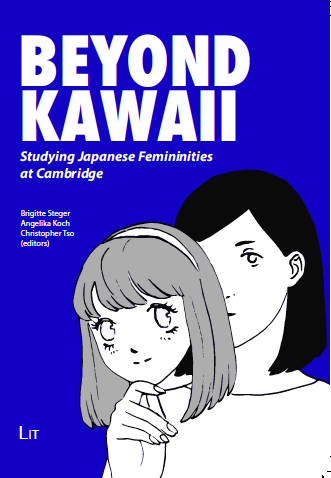 About:
Kawaii. The love of all things cute has become the dominant image of Japanese girls and women. Real Japanese women are, however, more complex. Some celebrate their uterus, others experiment with fashion and cross-dressing or embrace their chubbiness, many struggle with motherhood. And some may even return as vengeful ghosts.
This third collection of studies by young scholars from the University of Cambridge looks beyond the kawaii image and explores the diversity and complexity of being a Japanese woman in the new millennium.
Lit Publisher, 30 June 2020:
Table of Contents
Preface and Acknowledgments
1. Introduction: Beyond Kawaii
Christopher Tso, Angelika Koch and Brigitte Steger
2. 'A Woman's Happiness is Decided by Her Uterus!': Post-Feminism, Neoliberalism and the Politics of the Female Body in Japanese 'Uterus-Type' and 'Vagina-Type' Spirituality
Ellen Mann
3. Haha ni naru (Becoming a Mother): From Womanhood to Motherhood
Tianyi Vepsera Xie
4. Becoming Mayu: Transformation and Female Identity in Kanehara Hitomi's Trip Trap
Alexander Russell
5. 'Soft, Round and Squishy': The 'Chubby' Female Body in Japanese Dieting Commercials and Popular Culture
Anna Ellis-Rees
6. Ikemen dansō Girls: How Cross-Dressing Girls Portray the Ideal Gender in Contemporary Japan
Tianyi Vepsera Xie
7. Victim or Monster? Fear and Female Revenge in Three Contemporary Japanese Horror Films
Anna Ellis-Rees
About the editors: Brigitte Steger is a Senior Lecturer in Modern Japanese Studies at the University of Cambridge researching daily life. Angelika Koch (PhD Cambridge) is an assistant professor at the Institute for Area Studies, Leiden University specializing in early modern Japanese culture and language, with a particular focus on the history of genders/sexualities and history of medicine. Christopher Tso is a final-year PhD student at Cambridge ex­ploring male grooming practices in Japanese business culture.
https://www.lit-verlag.de/isbn/978-3-643-91286-2